Innovative science meets beauty at EvolvMD MedSpa & Body Contouring
EvolvMD in Milwaukee, WI offers several PRP Facial Treatments. PRP or Platelet Rich Plasma, uses your body's own growth factor to stimulate collagen production to minimize wrinkles, fine lines and pigmentation.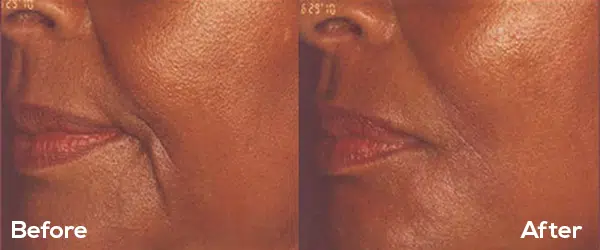 PRP Facelift + Dermal Fillers
PRP Facelift uses your own PRP serum and dermal fillers. Juvederm and Restylane fillers provide an instant fill or volume correction while the PRP initiates a skin regeneration process. Patients can see and feel the effects immediately as their skin becomes smoother and firmer. The use of PRP with fillers prolongs the effective filler correction for three to six months longer than when fillers are used alone.
Patients who don't want or need fillers can benefit from a pure PRP Facelift to improve fine lines and improve the way their skin looks and feels.
Areas ideal for stand-alone PRP therapy include:
Full Face (when no filler needed)
Neck (especially horizontal necklace lines)
Crow's Feet
Under the eye Fine Wrinkles
Acne Scars
PRP is applied to your skin, after which your face is then rolled with a Dermapen. EvolvMD uses a Dermapen which contains microneedles to create small channels, driving the PRP down into the skin, where it can effectively activate unipotent skin stem cells. In addition, the Dermapen prompts the creation of new skin cells and regenerates damaged cells. Combined treatments stimulate the production of collagen and elastin, creating of new cells. Your skin will glow and immediately feel smoother and softer, with progressive improvements continuing for several months.
Benefits include:
Soften fine lines & wrinkles;
Look refreshed & younger, with a more youthful skin texture, color & tone.
Frequently Asked Question About PRP Facial and PRP Facelift in Wauwatosa, WI
The PRP facelift is a quick non-surgical procedure that combines the science of hyaluronic acid fillers (i.e. Restylane and Juvederm) with unipotent stem cells derived from PRP. Unlike a surgical facelift, there is little to no downtime. The purpose of the lift is to smooth out facial wrinkles, provide facial volume correction, improve texture of the skin and rejuvenate the complexion, by using the combination of PRP and dermal fillers. The utilization of platelets and other growth factors found in your blood, trigger new collagen production. This result is tauter, smoother and more youthful skin. When combined with the dermal filler; shape, color, texture and volume are all restored, with the outcome lasting approximately 18 months!
Who should consider PRP skin therapy?
Anyone who wants their skin to look and function better. As we begin to age our skin color changes because of less underlying blood flow. The shape collapses and droops as muscles and collagen decrease, leading to changes in skin texture and the appearance of fine wrinkles. Additionally, our skin elasticity decreases and the dermis (the deeper part of the skin) thins. PRP treatments improve all of these components resulting in a refreshed and more youthful appearance.
What is the difference between a PRP Facelift and a surgical facelift?
Cosmetic surgery when needed, can remove excess skin and make the person appear younger. However, a surgical facelift can actually contribute to a face appearing to have collapsed, as the skin stretches tighter against the bone, making the person look skeletonized. The PRP facelift is the perfect treatment for anyone who wants wonderful results without the downtime associated with majory surgery.
What is the advantage of PRP over traditional fillers?
With dermal fillers, the face is truly lifted away from the bone and youthful volume can be restored to a beautiful shape. However, dermal fillers are not safe to use in all areas of the face such as around specific areas near the eye. Platelet-rich plasma can be safely injected anywhere since it is a natural component of your body. Furthermore, dermal fillers by themselves are not effective for improving skin tone and texture. Combining dermal fillers and PRP offers the best of both worlds. PRP is similar to dermal fillers because it can be injected to sculpt the face. Not only does the PRP cause an increase in the volume, PRP contains at least 8 growth factors that will over a long period of time, continually work like a rejuvenating agent. By activating these growth factors, all 3 parts of the aging process improve:
The skin color becomes "younger" looking because of new blood vessel formation
New collagen production in the dermis replaces volume resulting in a more youthful shape
Formation of a new dermis causes the epidermis (the outer most layers of your skin) to appear smoother
Can't find what you're looking for or want more information—request a consultation.