Fractional Laser Skin Resurfacing
Significantly improve tonal and textural skin concerns at EvolvMD MedSpa & Body Contouring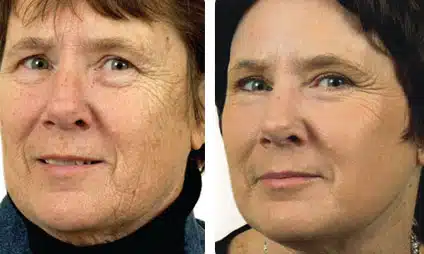 Fractional laser skin resurfacing uses laser energy to target various layers of the skin where specific concerns reside. This innovative and non-invasive treatment can reduce and eliminate signs of aging and other skin imperfections with minimal downtime. In addition, tiny pinpoints made in the skin promote rapid healing and new cell growth to restore healthy looking skin for a rejuvenated complexion.
Reduce the appearance of:
Fine lines and wrinkles
Acne and other scarring
Sun damage
Fractional Laser Skin Resurfacing Before & After Photos in Wauwatosa, WI
Frequently Asked Questions
When will I notice improvements in my skins tone and texture?
Improvements Can Be Seen After Just One Treatment. A Series Of Treatments May Be Recommended For Optimal Results.
How long does this skin rejuvenation treatment take?
Each Treatment Varies From Patient To Patient But Usually Takes Approximately 20-30 Minutes.
Are there any side effects I should be aware of?
Redness And Slight Irritation May Occur For Several Days Following A Skin Resurfacing Treatment But Will Quickly Resolve.
Price Varies Depending On The Area Being Treated And The Number Of Sessions Needed. For More Information, Interested Parties Should Schedule A Consultation.