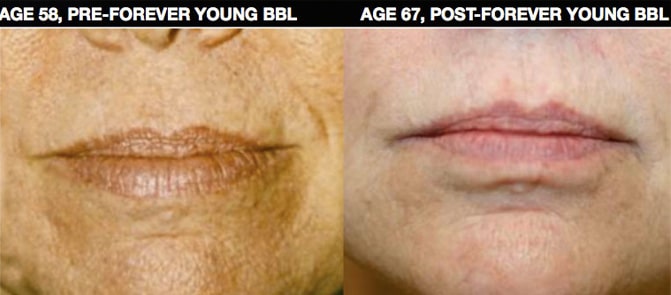 We are often asked at EvolvMD MedSpa what our number one recommendation for anti-aging prevention is. Time and time again you will hear Dr Reiswig say, "Sunblock," as 80% of aging from brown spots to fine lines are from our accumulation of UV exposure. We know it's depressing to think that those tanning booths in our 20s are punishing us now and though we can't change the past, with BBL we CAN minimize our prior transgressions.
Studied with Stanford University, BBL was shown to remove years of accumulated sun damage in our skin's dermis, the part of the skin where cells manufacture good things like collagen and elastin. After BBL the skin's cellular function improves and BETTER quality collagen (stronger, thicker, more resilient) is produced. Less sun damage under the microscope equates to improved texture and tone in the mirror.
DID YOU KNOW a long term study of BBL users showed that people who did BBL regularly looked 9 YEARS YOUNGER than their actual age. If you would like to look BETTER than you do today 10 years from today, then BBL photofacials are the right treatment for you. Call EvolvMD MedSpa & Body Contouring at 414.479.0113 to learn more about BBL and our other anti-aging treatments.