The sun is out, the snow is gone and temperatures are finally heating up and it's time to come out of hibernation.  We got really excited until we looked in the mirror; dry, blotchy skin, with a side of pastiness.  Yikes.  Sound familiar? We hear you.  We sat down with our estheticians to talk about their favorite ways to prep skin for spring and warm weather vacations.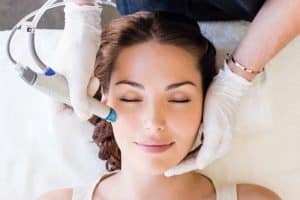 Stephanie, what is your favorite treatment to do before you go on a vacation after a long winter?
I love the Hydrafacial year-round, but especially after the bitter winter has taken its toll on my skin.  If you're going to the beach for spring break, or anywhere where you will have more exposure to direct sunlight, you'll want to stay away from more intense treatments like medical grade chemical peels. Those can leave your skin more sensitive to light and increase the risk of hyperpigmentation. The Hydrafacial is an excellent option because it removes dead skin, unclogs pores, and it is safe for every skin type. Your skin will be smooth and glowing without any downtime.
Reasons To Love It
Cleanses & Exfoliates
Removes Debris and Build-up, bye-bye to clogged pores
Intense Moisture Boost, adding Antioxidants, Peptides and Hyaluronic Acid
Helps Minimize the Signs of Aging and Hyperpigmentation
Increased Elasticity and Firmness
Glowing, Radiant Skin
Painless  
Cost Effective
Travel can wreak havoc on your skin.  If you do this before you leave, the exfoliation, extraction and intense moisture boost will keep your skin glowing while you are enjoying some much-needed relaxation.

Maren, what do you recommend for your clients?
The Glow & Go Facial is one of my personal favorites to give clients a post-winter boost.  We start with the removal of vellus hair and dead skin with dermaplaning.  Dermaplaning allows for better penetration of products during the treatment, and at home. Next, we use a low percentages of Lactic and/or Glycolic Acid to further smooth and brighten the skin.  This treatment promotes skin healing and hydrates skin to give you a lasting glow, and it's 100% customizable to meet a client's specific needs.  25 or 55, you will see incredible benefits from this treatment.
Reasons To Love It
Removes Dead Skin and Peach Fuzz
Stimulates Oxygen and Blood Flow
Targets Dull, Dry Skin
Helps with Pigmentation
Anti-aging
Stephanie, what products do you recommend clients start using to get their skin back in shape after winter?
I love the SkinCeuticals line of products and recommend the CE Ferulic Serum. I use it on a daily basis and have seen an impressive change in my skin. It's designed to be used during the day to help protect your skin from sun damage and improve fine lines and increase elasticity. Right after winter, your skin can appear dull and dry. Adding this into your regimen will help to increase firmness and brighten your complexion.  
Sunscreen is also a must to protect your skin going into the warmer months. The Physical Matte UV Defense SPF 50 is one of the best products because it's weightless, controls oil and provides incredible protection, while also providing tinted coverage.  I wear this product over my moisturizer or under my makeup. It does not clog pores or leave skin feeling greasy.  When paired with SkinCeutical's CE Ferulic, it is proven to prevent photo-aging by 97%!