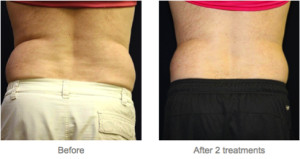 Here at EvolvMD, we couldn't be happier to offer Vanquish™, the non-surgical, no downtime and pain-free way to lose inches of fat. However, Vanquish is not the only type of non-surgical fat reduction on the market – however, it is the best!
The main difference between CoolSculpting in Milwaukee and Vanquish is the science behind the technology. Whereas CoolSculpting freezes fat cells between cooling plates, Vanquish melts them with radiofrequency energy. While CoolSculpting can be a very uncomfortable process – and pose nerve pain during the recovery – Vanquish is painless and very comfortable. In fact, many patients compare it to a heated massage!
But don't just take our word for it. Just look at RealSelf.com, an online website that offers unbiased reviews of cosmetic treatments. Whereas CoolSculpting only has a 69% "worth it" rating, Vanquish has a whopping 80%!
Our med spa medical director, Dr. Amanda Reisweig had this to say about Vanquish: "If you'd like to look your best for holiday parties as well as get the most out of your New Year's resolution, look no further than Vanquish. We've seen incredible results for our Milwaukee clients. Who doesn't want to reduce unwanted belly bulge without surgery, downtime or pain? We invite all those in the Milwaukee area to come in for their free consultation and learn more about this amazing technology."
Schedule your free consultation today! Call 414.479.0113 or email hello@evolvmd.com